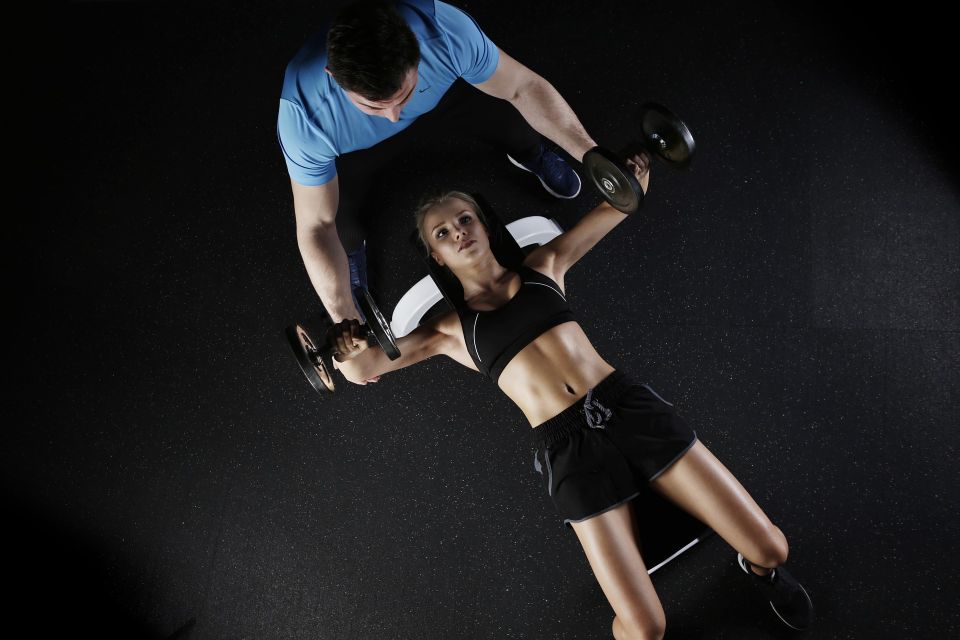 About Woodall's Fitness & Performance
Woodall's truly believes that no one fitness program fits every size, shape or person.  We know  that in order for you to be successful, the program must be sustainable and exciting! We offer a suite of classes & personal training to fit the lifestyle and fitness level of any person! Click on any of the offerings below to learn more about our standard class offerings, but be sure to check out our Events page as well for special classes, programs and workshops we might be offering.

Contact us today or stop by our gym to learn more! 
What Makes Woodall's Fitness & Performance Different from Other Gyms? 

 
NO MEMBERSHIP
At Woodall's, we aren't selling memberships. What does that mean? It means you aren't paying a monthly fee for a hands-off, come-as-you-please gym.
We are selling fitness success. If you want a monthly package, you can buy it, but you can also pay as you go. We believe wholly in creating a fitness program that supports your lifestyle and is sustainable.
 
INVESTED IN YOUR SUCCESS
At Woodall's, we are invested in your success.  It matters to us if you are reaching your goals.  We care if you come in, we care how hard you are working and it REALLY does matter to us how you are feeling.  Life can throw a lot of obstacles your way and at Woodall's, we want to help you get strong both physically and mentally- to be prepared for the obstacles and to overcome them.
 
NOT JUST A GYM
Our clients goals are our goals.  Our job and number one aim is to help you create a lasting lifestyle.  We don't want to just be your gym, we want to be your Third Place.  You have home, you have work and we want your third place to be Woodall's.
 
PROGRAMS & WORKSHOPS
Beyond our suite of classes, small groups and personal training, Woodall's is always offering a workshop or program to help you reach your goals.  From Rock Your Jeans to the Team Transformation Challenge to our Get Muddy Program, we try to come up with new ways for you to unlock your inner awesome.
 
COMBINE 360 CERTIFIED
Have you seen the Combine Testing and Training on ESPN?  Football Combine, Basketball Combine, etc..,.  These Combines are used as measuring tools to aid in recruitment and build college and professional team rosters.
Woodall's Fitness Studio is a Nationally recognized C360 Training Facility!
What that means is that we can help you train to become the athlete you were meant to be, using methods the pros train with.


 
SOMETIMES YOU WANNA GO…
Where everybody knows your name. Woodall's is YOUR fitness.  One of the most difficult things to do is START a fitness program.  Walking into a big box style gym and seeing a sea of fit and toned people is intimidating.  Woodall's is here to make this process one that you can love We are here to help you reach your goals- and we want you to do so in an environment that places no judgement on you.  There is no shame in the current state of fitness you are in.  There should be no guilt in changing your life.
Yes, YOU Can Reach Your Fitness Goals.
"We love everything about Woodall's! The work-out routines, the staff is AMAZING, and the environment is fun! My entire family loves it here!"

- Crystal, Google Review
"Very Welcoming Staff and Members. All fitness levels accepted, HUGE Variety of Class selection, Fun Environment, Amazing Skilled instructors, Childcare available, 10 Star Facility!"

- Nicole, Google Review
"This place is my home away from home. Love the people they really make you feel like family!"

- Terri, Google Review
Get Started Now
Give us a call or send us a message using the form below to get started!